Hail Damage

We work with all major insurance companies on hail damage removal. Estimates usually take about 20-30 minutes and involve determining the number and size of dents on each panel of the vehicle. Once the estimate is approved by the insurance company, our technicians remove interior panels to gain access to the back side of the cars sheet metal. We then push each individual dent until the whole car is smooth as glass. Our process maintains your vehicle's factory finish, is the most cost-effective and quickest method of repair. Most repairs take less than a week. PDR is the preferred method of repair by the auto insurance industry.
These benefits include:
Vehicle being restored to its original condition.
Less Downtime: vehicle is returned to the customer much sooner.
Reducing car rental expenses, if any at all.
No issues regarding mismatched paint.
Much more cost effective than conventional repair.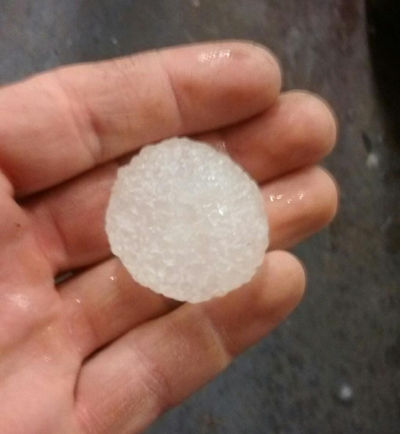 Will my insurance pay for hail damage?
Yes. Furthermore, in most cases, PDR is the preferred method of repair. With your full coverage policy, the only out-of-pocket expense is your deductible. And, as with all claims, Dent Prodigy, LLC will assist you any way possible to reduce your inconvenience.
My vehicle was recently in a hail storm. Can your company fix hail damage using PDR?
Yes. We have performed PDR on hundreds of hail damaged vehicles to the delight of our customers. We have performed hail damage repairs on all makes and models from classics to exotics and every car in between. Furthermore, when you have Dent Prodigy, LLC perform your repairs, you are having individuals with years of collision repair experience working on your vehicle. We take pride in performing the repairs correctly the first time.
I have never had to file a claim with my insurance, what do I need to do?
First, you will need to contact your insurance agent to file a claim. You will be assigned a claim number. An insurance appraiser/adjuster will contact you and make arrangements to view your damaged vehicle. Next, you can contact Dent Prodigy, LLC to set up an appointment to get your vehicle repaired. Most hail damage repairs take less than a week. However, once we review the adjuster's estimate, we may find additional damage the adjuster overlooked. We have an excellent working relationship with all major insurance companies and we will communicate directly with the adjuster to resolve any issues that may arise. We promise to care for your car as if it were our own from start to finish. Regardless of what the job calls for, we will strive to put your vehicle back to its pre-accident condition.